Outreach
---
We created websites, distributed newsletters and provided feature articles for mass-media. We have produced the South Asian Climate News - a quarterly newsletter reaching 1500 scientists and policy makers by email and postal mail. We also supported the distribution of the Asian Climate Digest in Sri Lanka. One thousand five hundred citations on climate related topics were organized into a Reference Guide in an effort supported by the National Science Foundation, Sri Lanka and IRI.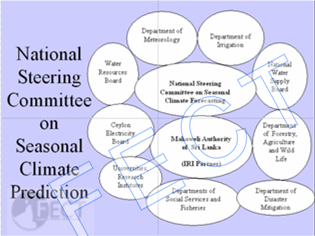 South Asian Climate News
This network and newsletter was started in late 1998 by Lareef Zubair. As pointed out in the first issue in January 1999: "At the Sri Lanka Association for the Advancement of Science (SLAAS) meeting that was held in December 1998, I had the opportunity to discuss the needs of researchers in climate and oceanography in Sri Lanka with some members who attended, and there was agreement that it would be worthwhile to maintain some sort of network. The reasons are that there is no forum in Sri Lanka that brings those with such interests together. We are often not aware of the work of one another; meetings related to climate take place without our knowledge and in many cases we do not know each other. Perhaps we shall be able to seek help from one another or even organize an annual meeting. Perhaps such a network can contribute to the development of the field. I am not sure as to what sort of network would be appropriate and sustainable. Perhaps all this can become clear once we set up a channel of communication among ourselves."

Eight years have gone and the modest goal that we set of bringing out quarterly issues has been accomplished. The mailing goes out to over
1000 subscribers by post and email. We have been able to bring to a wider audience a number of activities affecting Sri Lanka such as the INDOEX program (2000), IPCC, meetings in Colombo, the visit of the Director-General of the Indian Meteorological Department (1999), the land takeover of the Department of Meteorology (2002), and the Sethusamudaram Project (2004) various opportunities for meetings, grants and collaboration. In time, this is a task that should be undertaken by a learned society. In addition, the coverage has been expanded to encompass the South Asian Region and the work of several institutions in the South Asian Region has been highlighted.

Our thanks are due to the subscribers and contributors but particularly to the staff members who have worked to ensure its publication, its production in a format of increasing quality and its presentation on the internet.